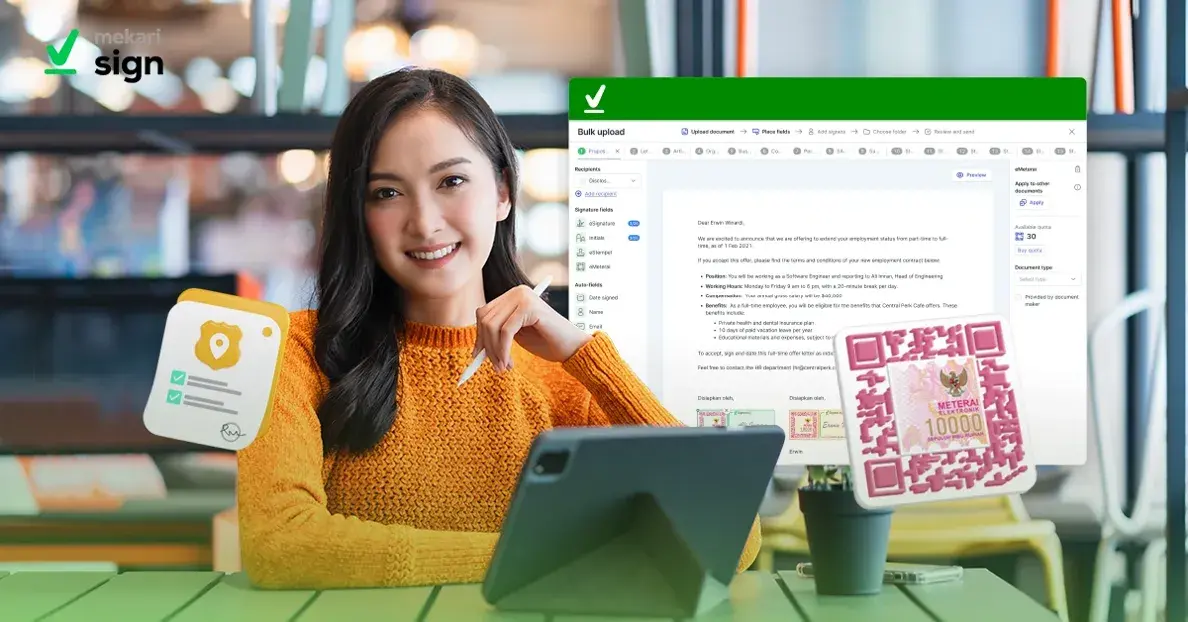 Did you know an easy-to-use online document authentication service is available now? This service is often known as an electronic stamp, e-Stamp, or eMeterai in Indonesia.
However, what is eMeterai? What are its characteristics? And how can you use it? To find out more, let's take a closer look at eMeterai below.
---
What is eMeterai?
eMeterai is a digital stamp service the Indonesian government provides for document authentication. It allows individuals and businesses to purchase and affix a digital stamp to their electronic documents as proof of payment and verification of authenticity.
Based on PP 86/2021 in Indonesia, an electronic stamp is a label affixed to electronic documents through a particular system. This means that eMeterai does not have a physical form like a traditional adhesive stamp you may be familiar with, but it is a digital stamp. However, both have the same value, which is IDR 10,000.
---
The difference between eMeterai and meterai
The main difference between electronic stamps and traditional stamps is their form. eMeterai is digitally generated and printed on paper, while traditional meterai is pre-printed on paper.
However, the difference between the two is not only that. Here are some differences between eMeterai and traditional stamp duty:
| | | |
| --- | --- | --- |
| | Electronic Stamp (eMeterai) | Traditional Stamp (Meterai) |
| Form | Digitally generated and printed on paper | Pre-printed on paper |
| Validity period | 5 years | 1 year (based on Law of the Republic of Indonesia Number 10 of 2020 Article 28 regarding Stamp Duty) |
| Purchase method | Online or through authorized vendors such as Mekari Sign | From post offices, some banks, or authorized vendors |
| Usage | Can be used for various documents | Only for specific documents as determined by the government |
| Reusability | Non-reusable | Can be reused on the same document if the value is not fully used |
| Security | Has a unique code and can be verified online | Can be easily counterfeited |
| Environmental impact | More eco-friendly as it reduces paper waste | Contributes to paper waste |
| Storage | Can be stored digitally or in physical form | Must be stored in physical form |
Electronic stamps are more convenient, secure, and sustainable than traditional stamps. Nonetheless, their usage is not widespread across all countries and may need more technological infrastructure and support.
---
How to Buy eMeterai through Mekari Sign?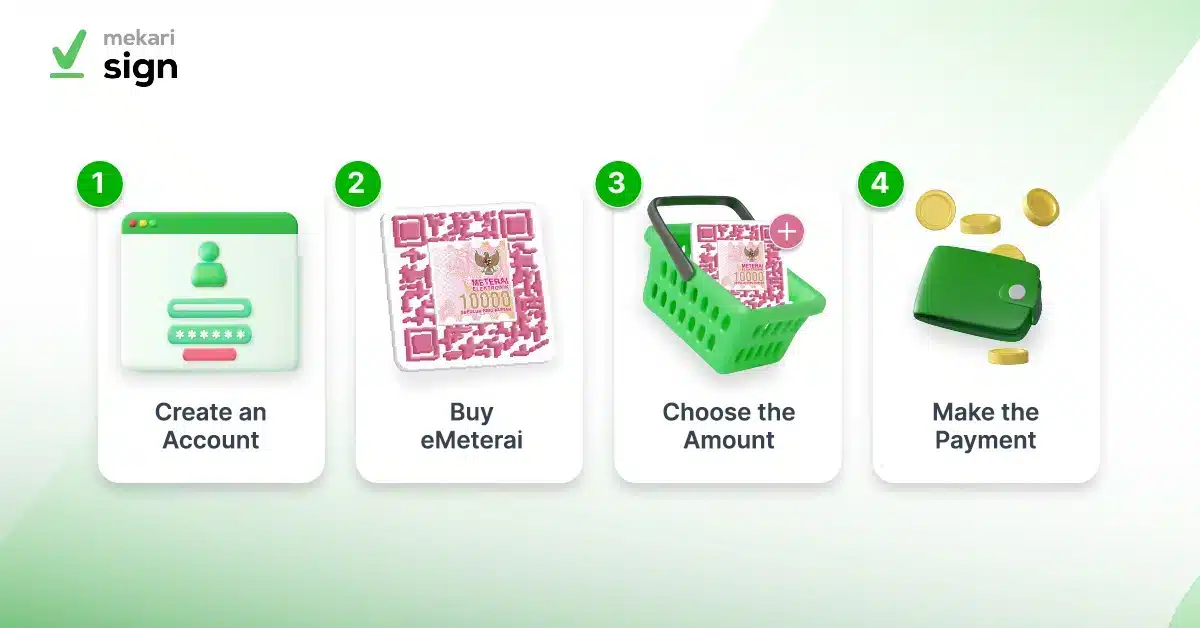 Here is a simple guide on how to buy eMeterai through Mekari Sign:
1. Create a Mekari Sign Account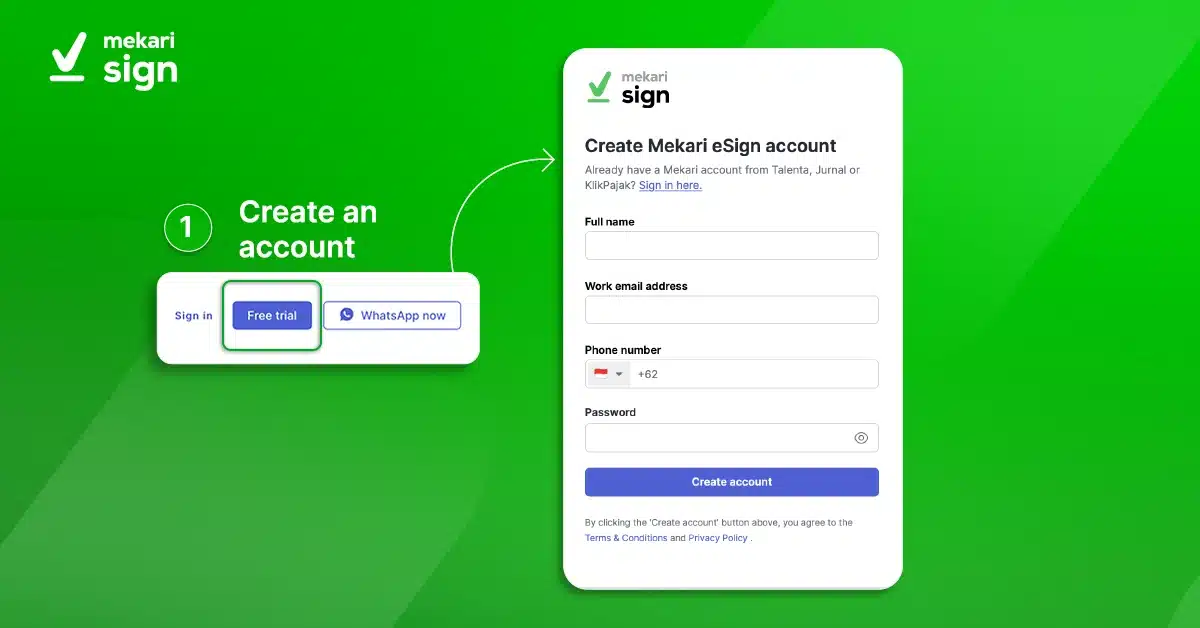 Create your account by registering here. Or, if you've registered before, you can log in here.
2. Buy eMeterai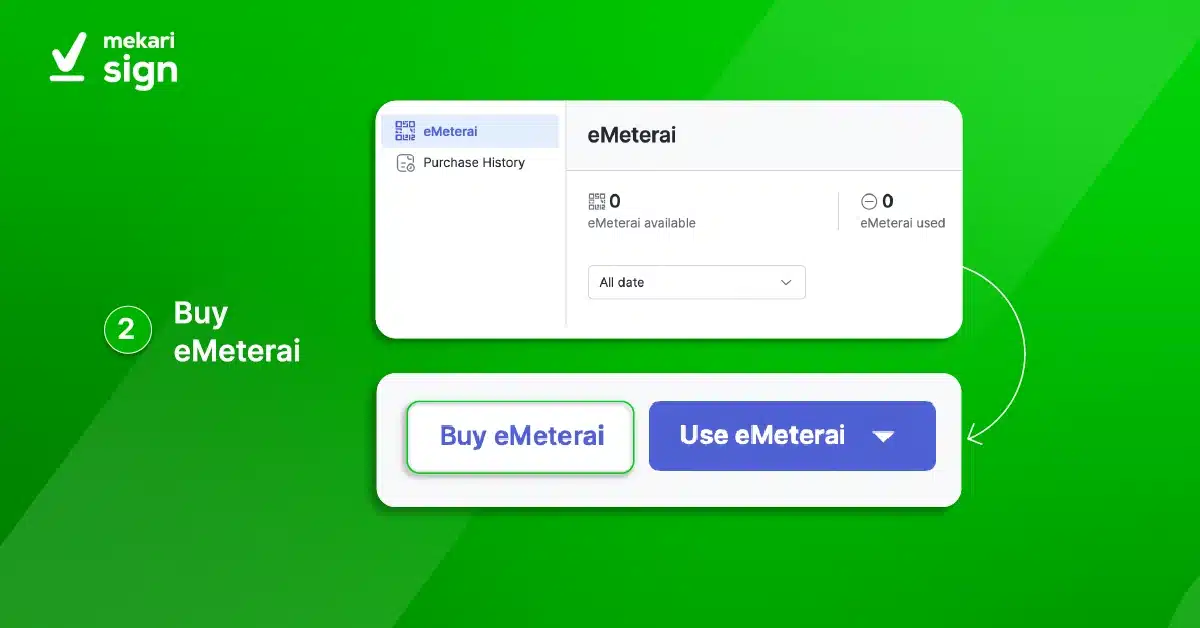 Click on the E-METERAI menu, and select the "Buy eMeterai" option.
3. Choose the Amount of eMeterai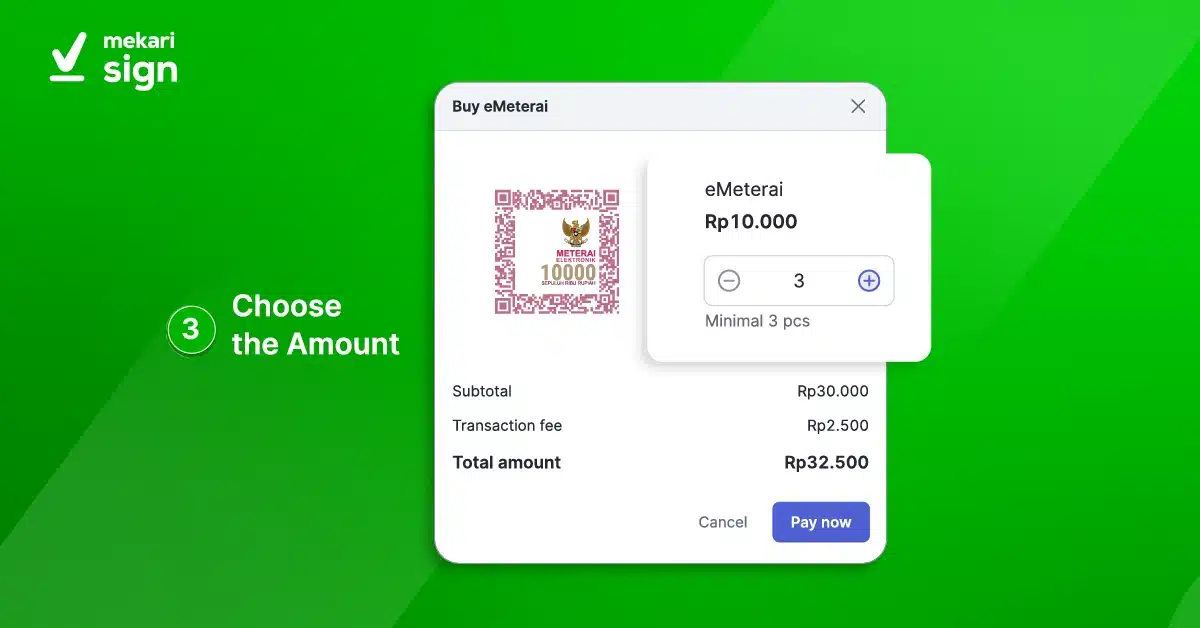 Select the amount of e-Meterai you want to purchase. Make sure the amount is enough for your needs. Once done, click "Pay Now".
4. Make the Payment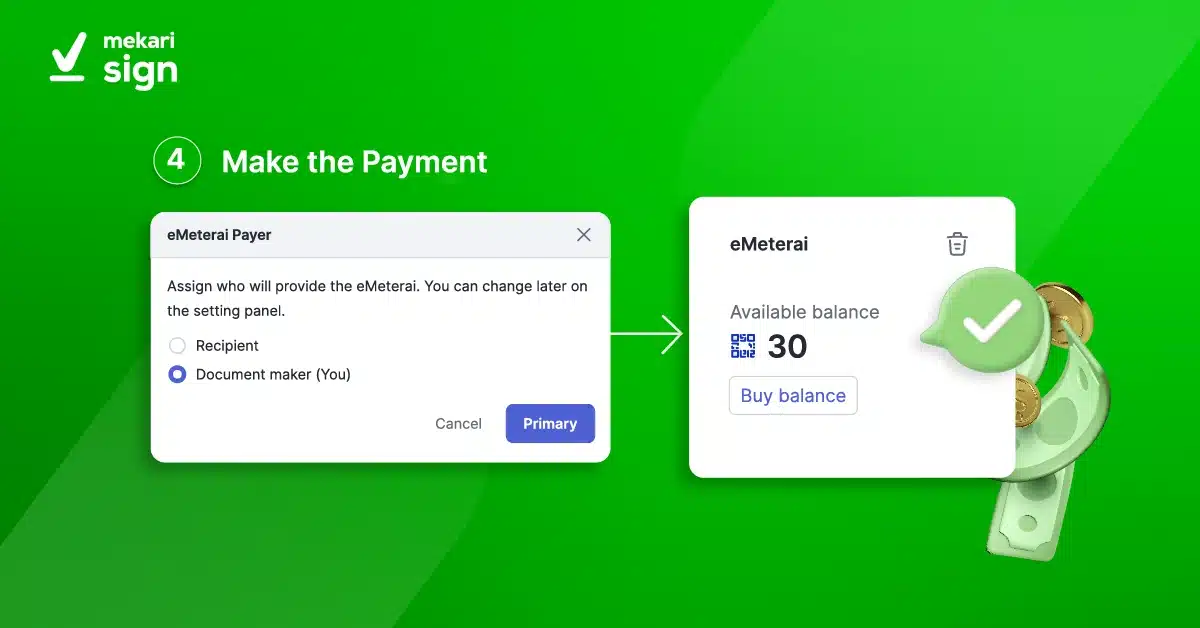 Choose your payment method, and then make the payment. After a successful payment, the e-Meterai balance will automatically increase in your account.
---
How to Use eMeterai through Mekari Sign?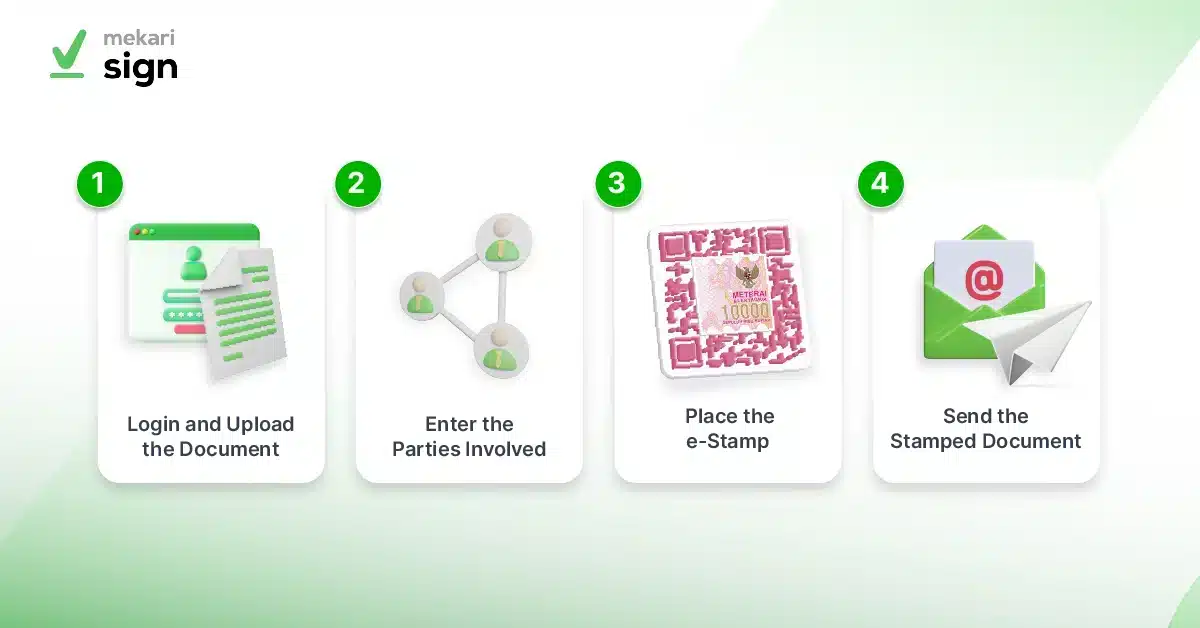 Mekari Sign is one of Indonesia's official distributors of electronic stamps, allowing you to stamp your digital documents electronically. It is important to note that using e-Meterai differs from traditional stamps.
Here are the steps for using e-Meterai in Mekari Sign:
Step 1. Login and Upload the Document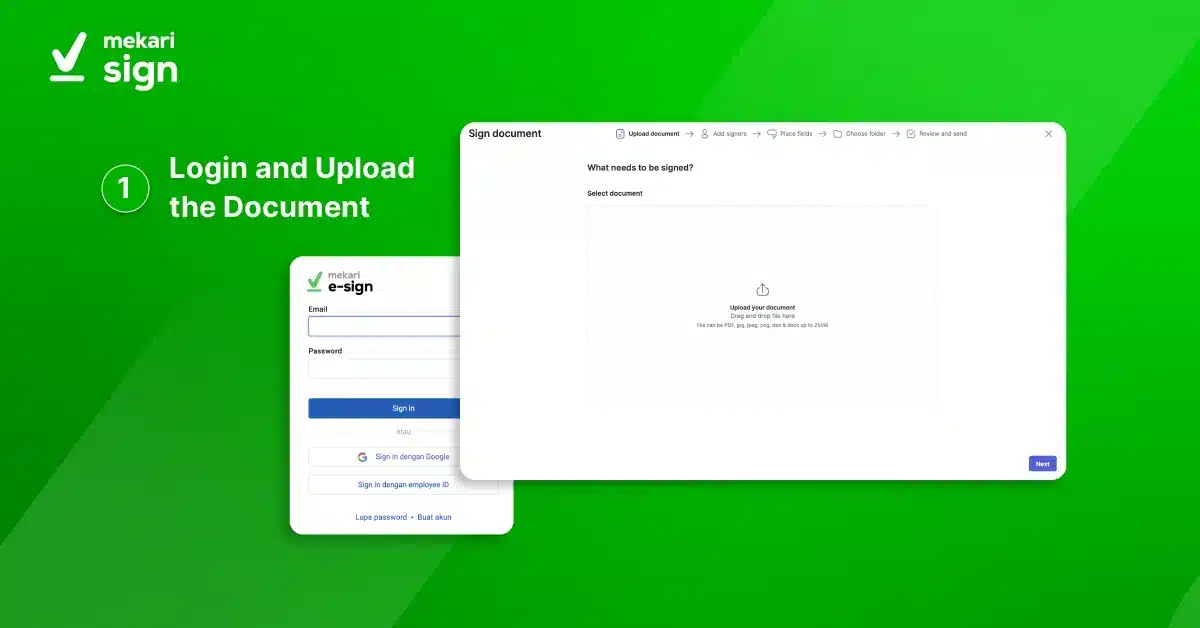 To use eMeterai or e-Stamps, log in to your Mekari Sign account and upload your document in Word, PDF, JPG, or PNG format. Once uploaded, your document will appear on the screen, and you can click "Continue" to proceed.
Step 2. Enter the Parties Involved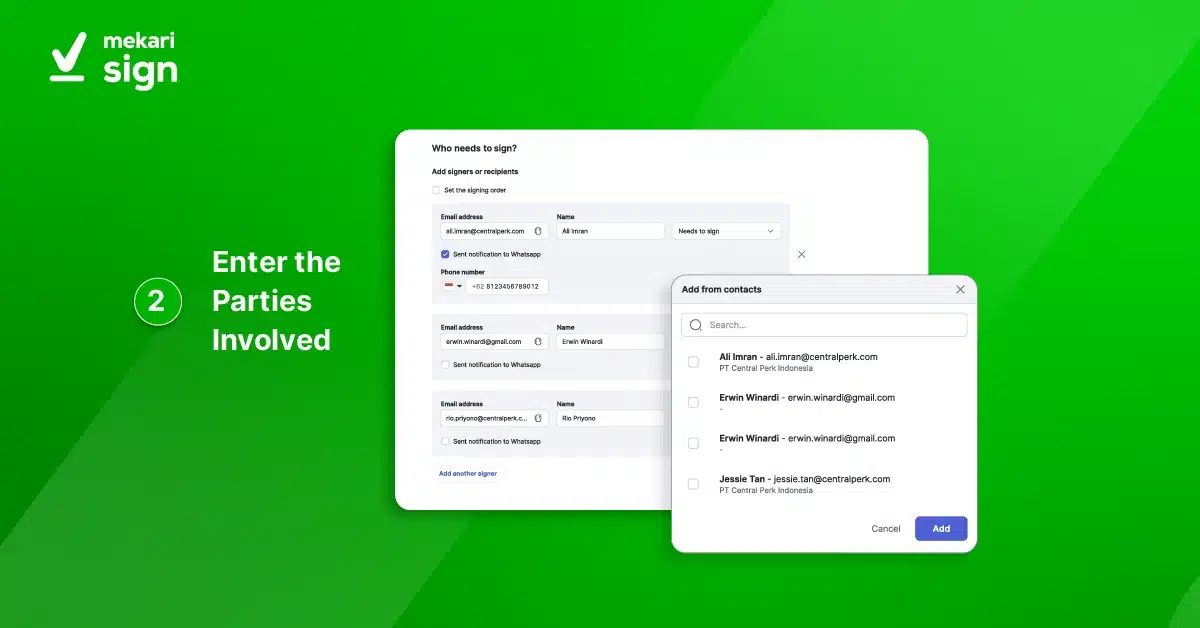 You will be prompted to fill in the details of the parties involved. To use e-Stamps, enter the name and email of the parties digitally signing the document. You can also add yourself as a signer.
Step 3. Place the e-Stamp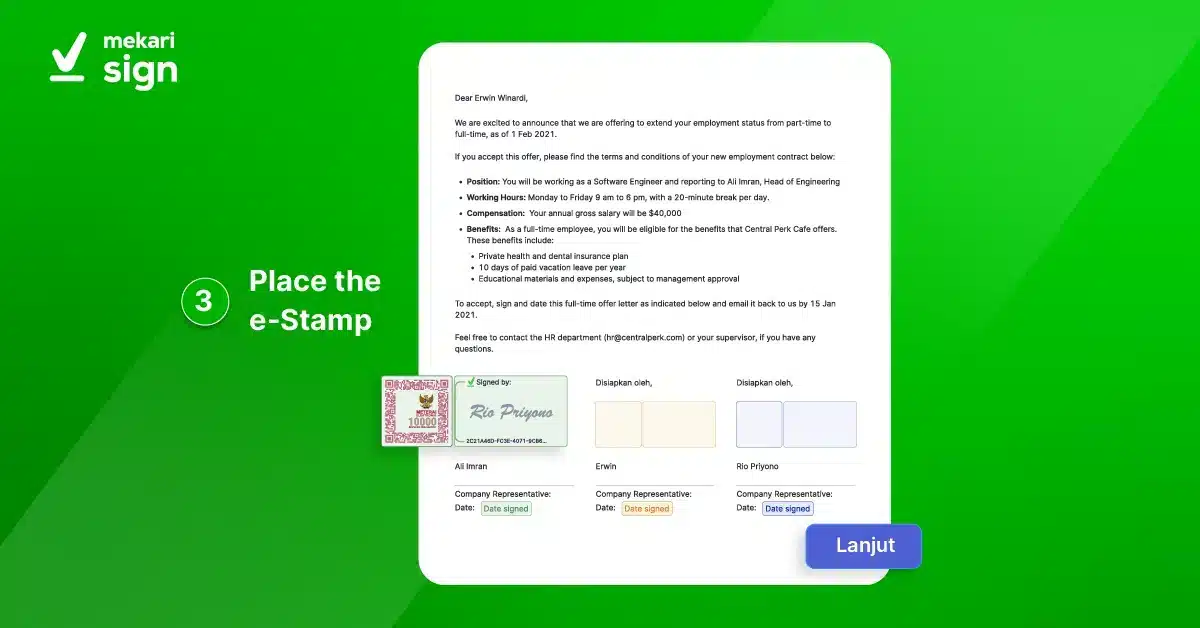 Place your digital signature on the document as needed. Then, place the e-Stamp next to your or any other party's signature. You can add an unlimited number of e-Stamps to your document.
Step 4. Send the Stamped Document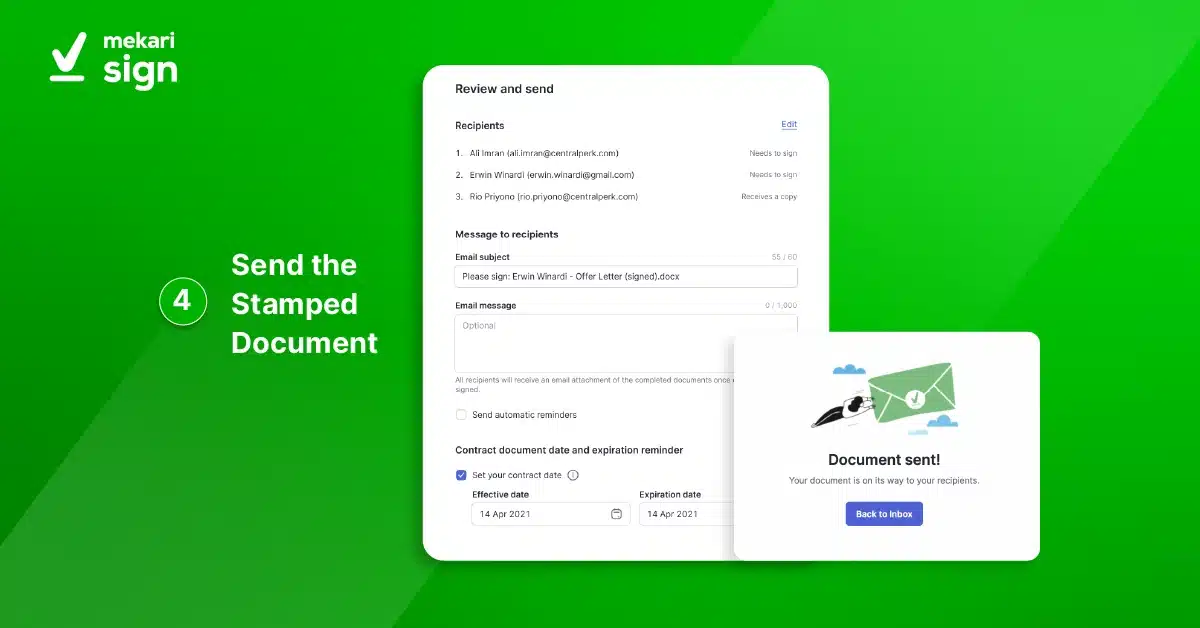 Finally, set any necessary reminders or signature folder settings, and send your document. Once all parties have signed, the document will be saved in PDF format in your Mekari Sign account storage folder.
---
Characteristics of Valid Electronic Stamps (e-Stamps)
To ensure that your tax payment on documents is valid, here are the characteristics of e-Stamps that you need to understand:
It has a serial number that functions as a unique code for the electronic stamp.
It has a specific representation of the Indonesian national emblem, Garuda Pancasila.
It has the words "ELECTRONIC STAMP" written on it.
It has numbers and writing that show the stamp duty rate, which is 10000 and TEN THOUSAND RUPIAH. E-Stamps differ from stamps made with a Digital Verification Machine.
---
Documents that Require Electronic Stamps (e-Stamps)
According to Indonesian Article 3, Paragraph 2 of Government Regulation No. 86 of 2021, here are the documents that require electronic stamps:
Memorandum of Understanding (MoU), recommendation letters, statements, and related documents.
Notary deeds and grosses (original copy of the deed).
PPAT deeds and their copies.
Securities documents with any name or form.
Securities transaction documents with any name or form, including futures contract transactions.
Auction documents, including quotations, minutes, copies, and grosses.
Documents stating an amount of money greater than 5 million rupiahs, mentioning the receipt of funds, or containing receipt of payment or settlement of debts, in whole or in part.
Other documents as referred to in the Stamp Duty Law.
---
Types of Documents that Do Not Require e-Stamps
Based on Indonesian Article 7 of Law No. 10 of 2020, there are documents exempt from stamp duty, namely:
Documents related to the movement of people and goods: storage letters, consignments, passenger and cargo transport letters, proof of shipment and receipt of goods, shipment letters for sale under the sender's responsibility, and other letters that can be equated with the above letters.
Receipts of salary payments, waiting for money, pensions, allowances, other expenses related to employment relationships, and letters submitted to obtain such payments.
Evidence of receipt of state funds from the state treasury, local government treasury, banks, and other institutions designated by the state based on statutory regulations.
Receipts for all types of taxes and other receipts can be equated with those originating from the state treasury, local government treasury, banks, and other institutions designated based on statutory regulations.
Receipts made for internal organizational purposes.
Documents mentioning deposits or securities, payment of deposit money to depositors by banks, cooperatives, and other institutions that carry out deposit-taking activities, or issuance of securities by custodians to customers.
Pawn letters.
Evidence of profit sharing, interest, or returns from securities, with any name and form.
Documents issued or generated by Bank Indonesia in the implementation of monetary policy.
---
Validity of Electronic Stamps (e-Stamps) in Indonesia
Electronic stamps are regulated in Indonesian Article 14 of Law No. 10/2020 regarding Stamp Duty. Not only that but Article 5 Paragraph (1) of Law No. 11 of the Year 2008 (IT Law) also states that electronic documents are valid legal proof.
In other words, electronic documents with e-Stamps have the same legal force as paper documents or adhesive stamps. So, you don't have to be afraid or hesitant when using e-Stamps.
However, ensure you buy e-Stamps from a legitimate electronic stamp distributor such as Mekari e-Sign because irresponsible individuals sell fake e-Stamps. If your e-Stamp is affected, the stamp is invalid, and your money is wasted.
---
Legal Basis of e-Stamps Globally
The validation of electronic documents is a growing trend globally, with e-Stamps and similar digital technologies becoming more popular. These services offer a faster, more efficient, and more secure way to validate documents than traditional physical methods.
E-Stamps are a practical option for individuals and businesses requiring online document validation as the internet and digital technology use continues to rise in business and public administration.
Similar services that use digital technology to validate documents, such as digital stamps, electronic signatures, or e-stamps, have also been introduced in several nations. Even though these services may have different names, they aim to provide online authentication and security for electronic documents.
Also Read: What is Electronic Signature: A Comprehensive Overview
---
Functions of Electronic Stamps
The function of e-Stamps is the same as adhesive stamps that you often see, which is for the taxation of certain documents, specifically, for electronic documents whose use is increasingly popular in Indonesia.
You should note that e-Stamps are not the determining factor of the validity of an agreement. Instead, documents with electronic stamps can be strong evidence in court.
In other words, without e-Stamps, your electronic documents cannot be used as evidence in court. Therefore, you must affix them first before bringing them to court.
---
What is the price of an Electronic Stamp (e-Stamp)?
You can buy physical stamps at your nearest post office. Alternatively, you can buy stamps online through meterai.posindonesia.co.id for Rp10,000.
Additionally, you can purchase them from some retailers outside of post offices, but they tend to charge higher prices.
For the use of e-Stamps on electronic documents, you can purchase them on the e-Stamp portal or from authorized electronic stamp distributors such as Mekari Sign for the same price of Rp10,000. The purchasing process has been explained above.
---
Do Electronic Stamps Need to be Signed?
According to PMK 134/2021 in Indonesia, there is no provision regarding the placement of a signature on electronic stamps.
Additionally, it is not recommended to overlap a signature on e-Stamps because e-Stamps have a QR code as a form of validation.
---
Can Electronic Stamps be Printed?
Yes, but you cannot combine them with a wet signature as they only serve as a document copy. If you print an e-Stamp, it does not have the same value as the original e-Stamp.
---
Do e-Stamps Expire?
No, they do not. Once you place an e-Stamp on a document, it will be valid forever unless it becomes damaged. The expiration of an e-Stamp only applies to the certificate, which usually lasts one year.
---
How to Buy Digital Stamps on e-meterai.co.id
Apart from Mekari Sign, here's how you can get electronic stamps from e-meterai.co.id:
1. Create an Account
Visit the e-meterai.co.id website and click "Daftar" (Register) in the upper right corner. Then, select the type of account you want. If you use it for personal purposes, choose "Personal."
2. Complete Your Data
After creating an account, you will be asked to fill in your complete data. You must upload your ID card (KTP) and complete the personal information form as requested.
3. Account Verification
Once you have completed all the required data, you will receive an SMS containing an OTP code. Enter this code in the available column to verify your account.
4. Purchase e-Stamps
Finally, if all the verification and data validation are complete, you can purchase e-Stamps directly as needed in the provided area.
---
Conclusion
In conclusion, eMeterai offers a practical and efficient solution for validating electronic documents.
With the option to purchase eMeterai online or through physical retailers, it has always been challenging to authenticate documents digitally.
If you're looking for a reliable and secure official distributor of eMeterai, look no further than Mekari Sign! Visit our website today to learn more.