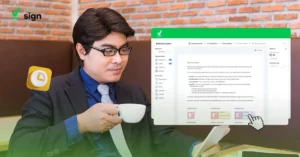 With the rise of remote work, electronic signatures have become an essential tool for businesses and individuals alike, especially in this age of digital transformation. They offer a quick and efficient way of signing documents without printing, scanning, or mailing. But how to create an electronic signature?
In this article, we'll show you how to create an electronic signature step-by-step. From creating an account, uploading documents, and setting the signature.
---
Step 1. Choose an electronic signature provider
Before creating an electronic signature, you must choose an electronic signature provider. Many options have different features and pricing plans, so choose one that suits your needs and budget.
Mekari Sign is one such provider which offers a user-friendly platform to create and manage electronic signatures.
After choosing a provider, create an account and log in to the platform. Once you're logged in, you can start creating your electronic signature.
With Mekari Sign, you can easily create an account by visiting their website and scheduling a demo.
Also Read: What is Electronic Signature?
Step 2. Upload the document
Once you've logged in to your Mekari Sign dashboard, complete the registration process. From there, you can upload the document you want to sign and create an electronic signature.
You can select the document from your device by clicking Upload your document or dragging and dropping it into the provided box.
Ensure your document is in acceptable formats, such as DOC, DOCX, PDF, JPG, JPEG, or PNG, and that it's no larger than 25 MB.
Step 3. Add signers
After uploading the document, you can add signers who need to sign the document. Please enter the name and email address of the signers, and specify the order in which they need to sign the document. You can also add yourself as a signer if needed.
Mekari Sign allows you to add multiple signers and specify their signing order, just like most other providers.
Step 4. Sign the document
Once the signers are added, you can set up the signing process. You can specify each signer's signature position, name, date, and other details.
Mekari Sign offers a simple interface to set up the signature for each signer. You can preview the document and drag and drop the signature options on the left to customize the signature details.
Step 5. Send and finalize the document
Finally, you can send the document for signing after setting up the signature process. Mekari Sign allows you to send the document by clicking on the "Send" button in the top right corner of the page.
An email notification with a link to access the document and sign it electronically will be sent to the signers.
And that's it! You have successfully created and sent your electronic signature document using Mekari Sign.
---
What's Next?
By following these steps, you can easily create your electronic signature. With Mekari Sign, you can securely and quickly sign documents online without printing or scanning them.
Mekari Sign is a certified eSignature provider trusted globally by thousands of businesses. We offer four key features: electronic signature, electronic seal, electronic contract, audit trail, and online stamp (coming soon).
So, if you're looking for a hassle-free way to sign important documents, why not try Mekari Sign? Try Mekari Sign today to experience the convenience and efficiency of digital signatures!